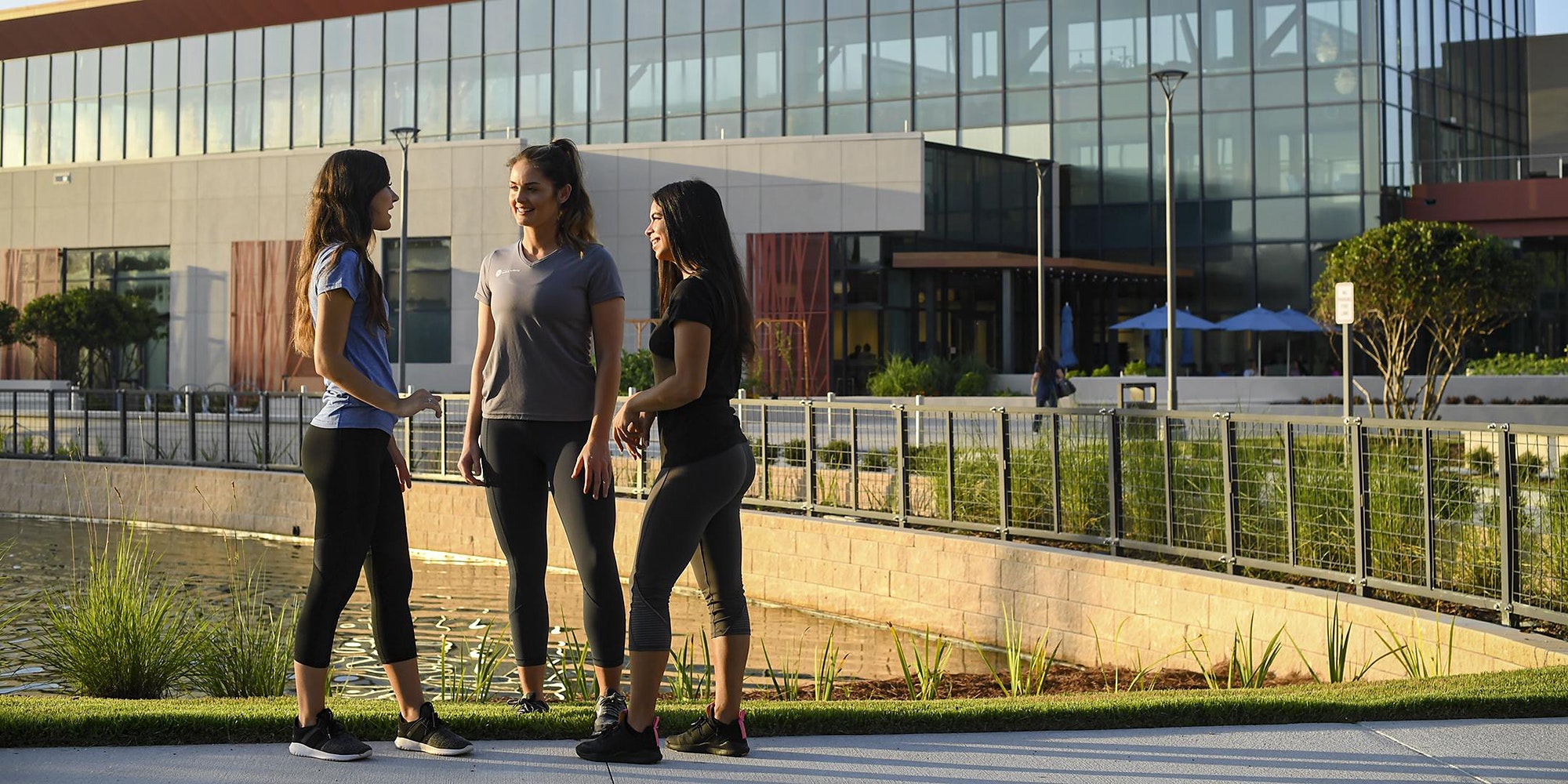 Greetings from the Center for Health & Wellbeing
Life is busy. Between your many obligations – including those that will soon bring you to the Center for Health & Wellbeing – you need a place to center yourself and find community. You need a place where you can nourish your body, mind and spirit in new ways, every day. 
CHWB is where wholeness, fitness and medicine come together to help you achieve your optimal state of wellbeing. At CHWB, you'll find the tools to live a healthier, more gratifying life. Best of all, it's a beautifully designed and accessible place where you are invited to relax, learn, re-energize and ReCenter.
This page is designed to provide you with information about CHWB that will be helpful before, during, and after your visit. Keep reading here to learn more about the many things we offer to our community to support your whole-person health. And, be sure to scroll down to access our Community Education calendar, download a day pass to the Crosby Wellness Center that we encourage you to use during your upcoming visit to CHWB, and learn more about Nourish Coffee Bar +Kitchen, CHWB's health-focused cafe. If you're interested in a personalized tour of the Center for Health & Wellbeing, our Welcome Desk team provides tours, Monday through Friday. Scroll down on this page to book a tour, and we will look forward to helping you uncover your personalized path to whole-person health, supported by our world-class programs and amenities.
Thank you for spending time with us. You're a part of the CHWB Community now. Please don't hesitate with any questions about the Center – we can be reached by emailing [email protected] or by calling 407.644.2492.
Wholeness at CHWB
Personal wellbeing is more than regular visits to the gym – it encompasses care for multiple aspects of your mind, body and spirit. From community education programs and cooking classes to tranquility found in one of our many Gardens and our public spaces meant for work and play, you'll find plenty to maximize your whole-person potential at the Center for Health & Wellbeing.
Fitness at CHWB
The Crosby Wellness Center at the Center for Health & Wellbeing is the only Certified Medical Fitness Facility in Central Florida. Membership includes two pools and the latest weight and cardio equipment; group exercise classes, and private and group lessons in the Pilates Reformer Studio; and personal training from certified and licensed staff. In addition to Crosby, an indoor walking track, an outdoor walking path and fitness-focused CHWB Community Education Programs are free and available to the public — no Crosby Wellness Center membership required 
Medicine at CHWB
Whether you need physical therapy, primary and specialized medical care,  prescription refills, or a little relaxation, the Center's unique, integrated approach to healthcare has just what you're looking for. Our on-site AdventHealth medical team is comprised of physicians, physical therapists, acupuncturists, and massage therapists to support your journey. Plus, the convenient lab and pharmacy at the Center take the hassle out of routine lab work, staying up-to-date on prescriptions and picking up any over-the-counter items you may need.
Join Us at a CHWB Community Education Program
View the Calendar + Register Here
Experience World-Class Fitness at the Crosby Wellness Center
Download Your Day Pass
Plan Your Visit to Nourish Coffee Bar + Kitchen
View the Nourish Menu
Tour
Take a virtual tour of the Center for Health & Wellbeing (CHWB) to learn how Wholeness, Fitness and Medicine blend harmoniously under one roof in our state-of-the-art facility. From the tranquility of lush gardens to the convenient medical plaza, state-of-the-art fitness amenities and so much more, CHWB's holistic design supports your mind, body and spirit.  
Uncover your personalized path to whole-person health, supported by our world-class programs and amenities.
Book a Tour of CHWB
CHWB's Frequently Asked Questions
Where can I park when visiting the Center?
A  four-deck garage at the intersection of South Edinburgh and Crosby Way provides free parking for 271 cars, in addition to bike racks that are located throughout the site. The garage features ground-floor parking for disabled permit holders and a covered walkway connects to the main entrance of the Center.
Is there Wi-Fi at the Center?
The Center provides complimentary guest Wi-Fi, for both inside the building and in the outside Gardens.
Who owns the Center for Health & Wellbeing?
The Winter Park Health Foundation, owner and developer of the Center, partners with AdventHealth, owner and overseer of the clinical spaces and provider of the medical services located within the Center. Together the two partner organizations co-own and collaborate on the many Center spaces in addition to the programs designed to promote community wellbeing.
What is the mission of the Center for Health & Wellbeing?
The Center for Health & Wellbeing is a state-of-the-art unique healthy living center focused on improving the quality of life for residents from Winter Park, Maitland, Eatonville, and the surrounding Central Florida area.
What was the genesis of the Center for Health & Wellbeing?
The Center for Health & Wellbeing was born from many years of collaboration between the Winter Park Health Foundation and AdventHealth, and the desire from both organizations to make a more significant, longer-lasting impact on the whole-person health of our communities. The Community Health Assessment, a research study examining the residents of Winter Park, Maitland and Eatonville commissioned every five years from then-Florida Hospital and WPHF, illuminated some of the community needs for a place like the Center. The 2014 edition of the study found that while 80 percent of respondents said that caring for their health was "very important," more than half also self-identified as being overweight and more than a quarter were at-risk for a metabolic disease like Diabetes.
Do you have to be a member to visit CHWB?
No membership is required to access the Center for Health & Wellbeing. The only-fee based component of the Center for Health & Wellbeing is a membership to the Crosby Wellness Center.
Get the Whole Story - Sign Up for Our Newsletter