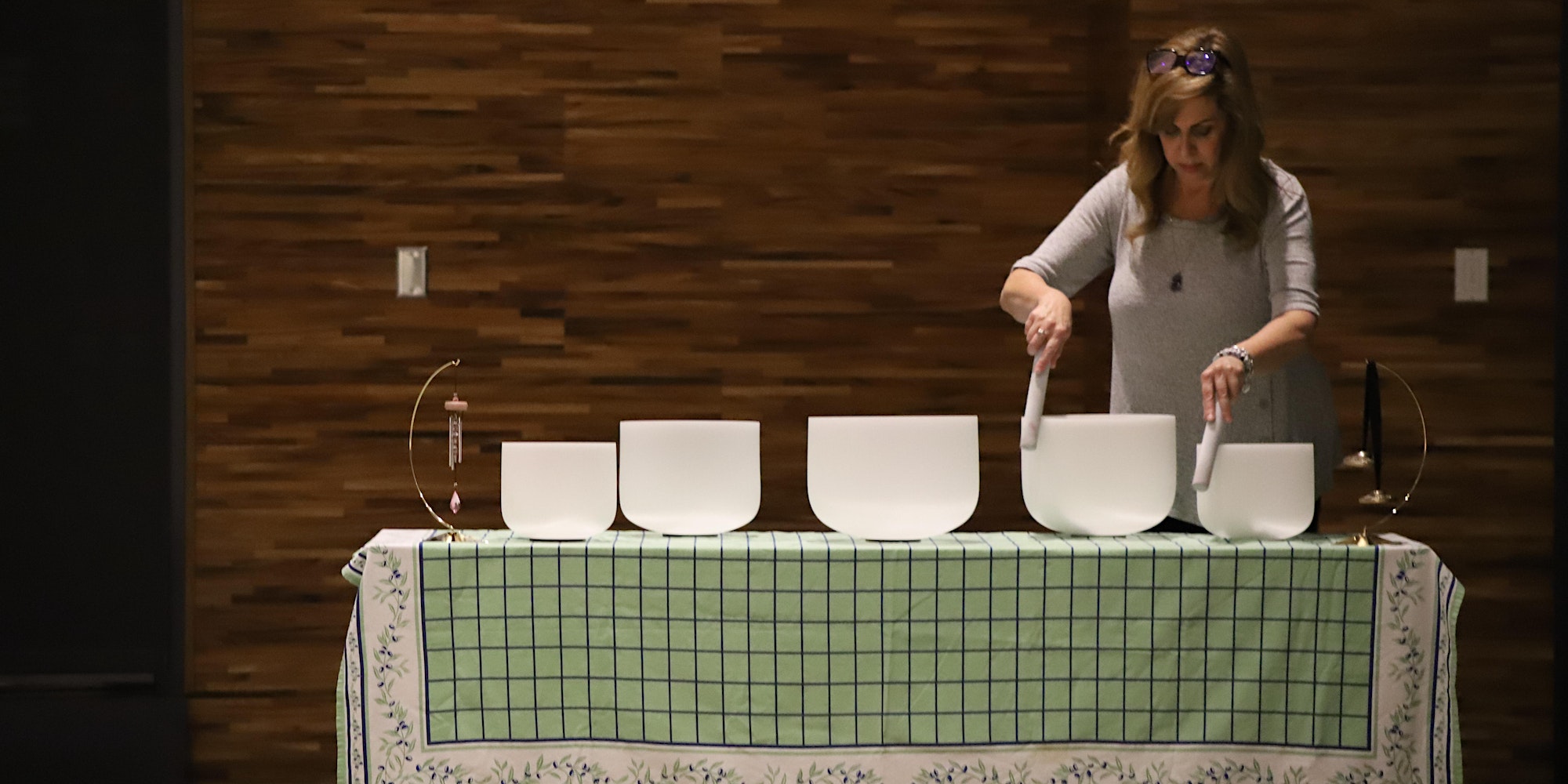 Crystal Bowl Sound Meditation for Community + Connection – Sept 26, 2022
September 26, 2022 at 7:00 pm - 8:00 PM
Calendar
Date & Time
Organizer
Event Types :
Join us for "Crystal Bowl Sound Meditation for Community + Connection" on Monday, September 26 at 7 PM.
Join Certified Meditation Instructor Camille Sacco for community + connection to learn the basics of meditation and to experience a crystal bowl sound bath.
Part meditation, part listening exercise, Sound Baths are healing musical performances played with crystal singing bowls and chimes. They can be very therapeutic because you are literally bathed in sound waves, where you will enter a state of deep relaxation. Sound baths help facilitate shifts in our brainwaves by using entrainment. Entrainment synchronizes our brainwaves by providing a stable frequency which the brainwaves can attune to. By listening to the rhythm and frequencies of the crystal bowls, we can downshift our normal beta state (normal waking consciousness) to alpha (relaxed consciousness) and even reach theta (meditative state) where profound learning, healing and growth can occur.
This sound healing experience is designed to clear and release negative energy, open your heart, and promote a quieter state of mind. The harmonious sounds are created to support your body's natural healing processes while you recline on blankets and pillows. After the session, you'll leave feeling mentally and physically rested, ready to enjoy the peace and tranquility of a healthy mind, body and spirit.
Special Instructions: Attendees can sit in a chair or on the floor for this program. Participants are encouraged to bring a yoga mat, towel, or small blanket; chairs will be available for those who prefer to use one. The room can also be cool during this program, so cold-sensitive participants may also want to bring a light jacket or sweater. All attendees are also encouraged to bring their own bottles of water.
This program is presented by Camille Sacco and hosted by the Winter Park Health Foundation.
About the Program Presenter
Camille Sacco is an American Institute of Health Care Professionals Mindfulness Coach and meditation instructor. She is also a graduate of the acclaimed Palouse Mindfulness Based Stress Reduction Course. Sacco is the author of two self-help books, "Hippiebanker: Bringing Peace, Love and Spirituality to the Workplace" and her latest book, "Firefly Culture: Illuminate Your Workplace by Tuning in to Mindfulness." She leads fun and informative classes and workshops on mindful meditations and her coaching sessions are infused with down-to-Earth guidance. She is both informative and fun in her approach. Her goal is to help people tap in to the wisdom of their soul by cultivating daily practices that will inspire confidence in the pursuit of living their lives with a higher purpose. Learn more at camillesacco.com.
Get the Whole Story - Sign Up for Our Newsletter